How do you store your golf gear? Usually, everything can fit into a golf bag and most of the time, bags are leaned up against the wall or stashed in a corner.  I did a little research for a friend who was asking my golf storage opinion and I found a couple of solutions.
1.  There are racks especially for golf bags that you can hang on the wall in your garage like this one from The Container Store ($24.99).  It's designed to hold two bags (with clubs) and two pairs of shoes.  Depending on your garage storage solution, you may be able to add a hook to your track system to hold your golf bag.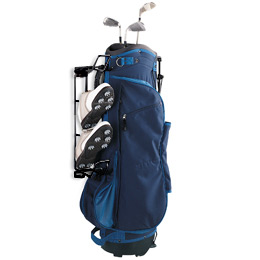 2.  Another option is a golf stand that simply sits on the floor and has shelves and cubbies for all you golf gear.  This one at Target is $56 and will tidy up your golf corner and keep your bag upright and looking organized.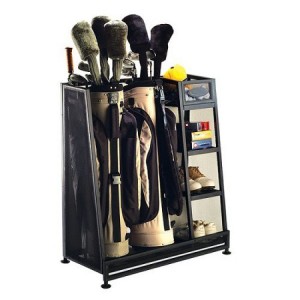 If you are overwhelmed with golf equipment, it might be time to go through your bag and pull out the million golf balls floating in every pocket and store them in a basket on your spare shelf in the garage. Or try to find space to zip golf shoes inside the bag, maybe even donate that old driver that was replaced last Father's Day.  If all the gear is in one bag you can grab quickly, there will be less fuss before teeing off.
Have organizing questions or need ideas to solve clutter in your space?  Email me at letsGITorganized@gmail.com